Prime investment in Gulberg Greens, Islamabad
SHOPS & APARTMENTS IN A GREAT LOCATION
Skypark One will provide all 152 residential units with designated, secure underground parking and private elevator access to six full floors of luxury living and convenient on-site access to international dining and shopping choices.
Visitors and guests will be welcomed through an elegantly vaulted lobby and reception area, while shoppers enjoy a dynamic 3-story-high world filled with many locally and internationally recognized name-brand retailers and a variety of dining options that include a vibrant 18,000 sq ft. food court for informal dining.
Designed by Pakistan's most innovative design team at Suhail & Fawad Architects, Skypark One promises both lifestyle and geographical exclusivity at Islamabad's most desirable address in the heart of prestigious Gulberg Greens.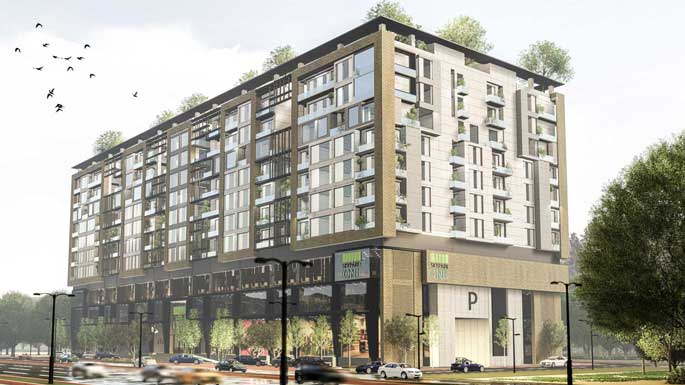 INVEST IN SKYPARK ONE
SELLING FROM
Occupation from end 2021
90 Days Money Back Guarantee
CONTACT US FOR MORE INFORMATION
Get in touch on WhatsApp
UAN: 051-111-852-963
Tel: +92 341-5222111
info@gharbaar.com

Central Location
Close to many great amenities for families, businessmen, and students.

Rental Income
Projected from Rs 800 p/m for 1 bedroom apartments​

DEVELOPMENT BENEFITS
Why invest in Skypark One
Investment Benefits
Gross ROI up to 200%
Rental income projected from PKR 50,000 to PKR 500000 per month
Benefit from recent govt. scheme which stats that investors will no longer be required to declare the source of income for their investments until June 2022.
Financing option available
Tenant vetting and placement assistance through Skypark Rentals.
Occupation from mid-2021
High rental demand
All possible amenities including swimming pool, gym, and 24/7 security.
MOU signed with the following brands: Tayto, Subway, Pizza Originale, Optp, Second Cup.
Fast construction
Previous Track Record. Successfully delivered OneExpressway in the past.
Comprehensive End-to-End Rental Management
Skypark One Rentals - our in-house rental managers
Tenant vetting & placement
Rental collection
Ingoing & outgoing inspections
Maintenance service available
PKR 25000/sq. ft.
AVERAGE SHOP VALUE
PKR 35000/sq. ft.
AVERAGE SHOP VALUE
GROWTH
40%
or PKR 7000/sq. ft.
PKR 8000/sq. ft.
AVERAGE APARTMENT VALUE
PKR 9700/sq. ft.
AVERAGE APARTMENT VALUE
GROWTH
21.25%
or PKR 1700/sq. ft.
Choose your Unit
This development is well priced and positioned to add to your property portfolio.
DEVELOPMENT INFORMATION
Documents
Information and Plans about the Development
LOCATION STATS
Why invest in Skypark One
The recent statistics show why Gulberg is such a fantastic investment area:
2009
PKR 7M
AVERAGE 1 KANAL PLOT VALUE
2019
PKR 15M
AVERAGE 1 KANAL PLOT VALUE
PERFECT LOCATION FOR TENANTS
Massive Expected Rental demand in Gulberg
Prices start from PKR 30,000/month
Gulberg Residencia is a commercial and residential project based in Zone 5 of Islamabad. It is situated on the main Islamabad Expressway and is a project of Intelligence Bureau Employees Cooperative Housing Scheme (IBECHS). Gulberg Residencia is one of the divisions under Gulberg Islamabad which also include Gulberg Greens and Gulberg Commercial. More than 70 percent of the society has been developed and many houses of Gulberg Residencia have their residents settled in. It is one of the most searched and luxurious housing societies of Islamabad with the experience of a city within a city.
Being a luxurious and one of the top searched housing communities in Islamabad, Gulberg Residencia offers world-class amenities including solar energy wide roads, knowledge villages, lakes, bridges, underground gas, water and electric connections, filtration and sewerage treatment plants, sports complexes, recreational parks, dine out places, hotels, cinemas, New Blue Area, fuel stations, transport terminals, emergency stations for fire, pharmacies, hospitals, auditorium, gymnasiums, public library, schools and colleges including community centres.
The nicest thing about this area must be the fact that it is an affordable area to live in and will have all the luxuries that you would need like great shopping malls, parks, mosques etc.
HAVE A QUESTION?
Contact us
If you are considering an investment or a lock-up-and-go lifestyle opportunity, this development is ideal with the perfect location. Contact us today to assist you in acquiring one of these investment units.
Gulberg Office:
Skypark One, Main Gulberg Expressway, Gulberg Greens, Islamabad
Tel: 051 - 111 - 852 - 963
Email: info@gharbaar.com
6th Road Office:
Baqai Arcade Plaza, 6th Road, Satellite Town, Rawalpindi
Tel: +92 341 5222 111