"Invest X Get Y Rent" Is this scheme legit or a marketing gimmick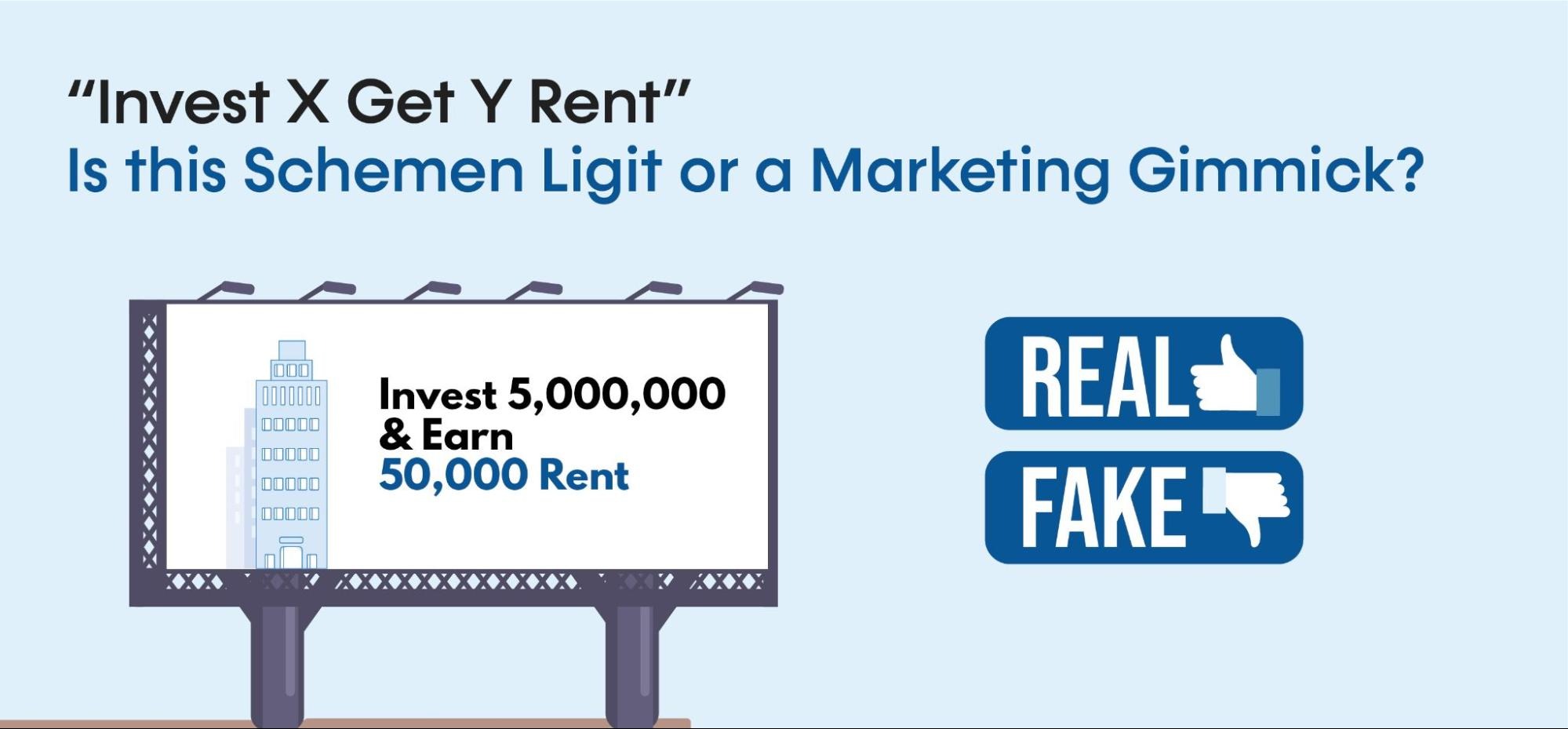 In financial education, there's a famous saying: it's not true if it sounds too good to be true. You need to read the fine print to see what it will cost you. We don't believe in easy money and get rich overnight schemes because they are always too good to be true. Earning, maintaining, and growing money takes effort, time, learning, and informed decision-making.
Pakistan's real estate sector is brimming with offers of say invest x and earn y per month and you can find a thousand variations where you can literally fill in various million figures in x and multiple figures in thousands in the y.
May be these developers have found a way to grow your money while their project is yet under construction and has yet to deliver any value to end users, but that way is beyond our reasonable imagination. If it were so simple and easy, the developers would buy all the available units for themselves and leave nothing for the outsiders to profit off.
The Developer Knows Better
The developer knows the market, costs, profit margins and everything about his project much better than you. Or to a degree that you can only dream of. Your research, no matter how sound, would always lead to dead-ends where you'd wish you had the actual costs and profit margins maintained by the developer and associated marketing agencies. So what's the next best thing? You can always understand how things work by exploring the associated variables without necessarily getting into the actual numbers game.
A Marketing Gimmick?
In our assessment, the schemes offering "invest X and get Y rent" have various underlying factors which enable the developer and marketing agencies to sell better. A few of these could be:
Catering for People with Large Capital to Spare
Not everyone needs an installment plan to conveniently purchase a property. There are plenty of customers with huge sums to park somewhere profitable or secure. Such customers are turned off by the fact that they'd be investing in a project that will take two or three years to complete. While they can be sold on the prospects of capital gains and price appreciation; that is something that works better for the customers availing instalment plans and those with full payment would compare the future value of their investment if they invest the same amount in another venture for the duration of project's development. And hence enters, the scheme for rent while the project is under construction.
The government of Pakistan's amnesty scheme, which has been open for more than past three years, could be another facilitator for such schemes. Anyone who wants to invest their undocumented wealth has very limited options and such people don't necessarily need a house to live in. Their primary motivation is to bring their money into the system without answering the associated questions and generate income off the same. Bank accounts and stock exchange has a rigorous system that requires an investor to declare source of income whereas real estate sector doesn't have these in place because of the amnesty.
Price Factor
If you compare the prices of such units with similar under construction projects or even ready to move-in projects, you'd realise that the projects offering guaranteed rental are on the higher side of prices spectrum or at least comparable to fully ready properties. Therefore, while you are compensated through a guaranteed monthly rental, you don't get the benefit of investing in an under construction project for a lower price tag.
How it Works
We cannot say with certainty how different developers and marketing agencies have operationalized such schemes. It is beyond our imagination to consider how a developer could afford to give rental income to its investors for an under-construction project that has yet to add any value to anyone's life (It is currently adding value to the labourers and the construction industry etc. by creating jobs and consumption of their product but not the end users).
Mostly, such schemes are offering 6% yearly or 0.5% monthly rental yield on your investment. For a 10 million property, it would come down to 50,000 per month or 6,00,000 annual rental yield. We are confident that the property being offered against such schemes is only 88% of the value it is being sold at (or even less). The remaining 12% is used to cater for rental provided to you over the next two years.
The associated factor of investing in such a scheme is that it wouldn't even give you the expected capital gains after completion since these properties were already sold at a higher price. And once you go out to rent such property on your own (once you are given possession), it would rent at the prevailing market price of say 8.8 million and not 0.5% of 10 million.
Conclusion
Staying away from "too good to be true" deals is the safest investment you can make with your capital. If you are not hard-pressed by considerations like availing the amnesty scheme, there are plenty of other authentic investment options that you can avail and profit off.