Blue World City Islamabad (Project Highlights)

AreaChakri Road
DeveloperBlue Group of Companies (BGC)
Property TypeHousing project
Handover DateDec, 2020.
PricePKR 119,000 - 62 Lac
Balloting30th September.
Property Types
Plot Size
Price (PKR)
5 Marla Residential
1,290,000

1,190,000

8 Marla Residential
1,600,000

1,500,000

10 Marla Residential
2,000,000

1,850,000

1 Kanal Residential
4,000,000

3,800,000

2 Kanal Residential
6,500,000

6,200,000

4 Kanal Residential
7,200,000
8 Kanal Residential
12,150,000
5 Marla Commercial
5,400,000
8 Marla Commercial
7,560,000
Features
Play Area & Mini Golf Club

E-Tag System

Gated Community

Parks & Jogging Tracks

Guest Waiting Area

Mosques

Overseas Lagoon Club

24 Hours CCTV Security

Green Service Area

Underground Electricity

Carpeted Roads Network

Electricity Power Plant

Lakes and Oxygen Park

Imax Cinema

Water pools & Spa Clubs

Easy Access to New Islamabad Airport

Blue Mart Department Store Chain

Few minutes' drive from M-2 Motorway

24-Hours Health Services with Ambulance

Identified Gate Entry System

Commercial Hubs and Shopping Malls

Largest Water Themed Park in Pakistan

Adventure Club and Safari Zoo
View All Features
Hide Details
Blue World City Payment Plan
Plot Category
Total Price (PKR)
First Downpayment
Remaining Installments
Monthly Installments (40)
Half Year Installments (8)
5 Marla Residential
1,290,000

1,190,000

119,000
13,338
66,938
8 Marla Residential
1,600,000

1,500,000

150,000
16,875
84,375
10 Marla Residential
2,000,000

1,850,000

185,000
20,813
104,063
1 Kanal Residential
4,000,000

3,800,000

380,000
42,750
213,750
2 Kanal Residential
6,500,000

6,200,000

620,000
69,750
348,750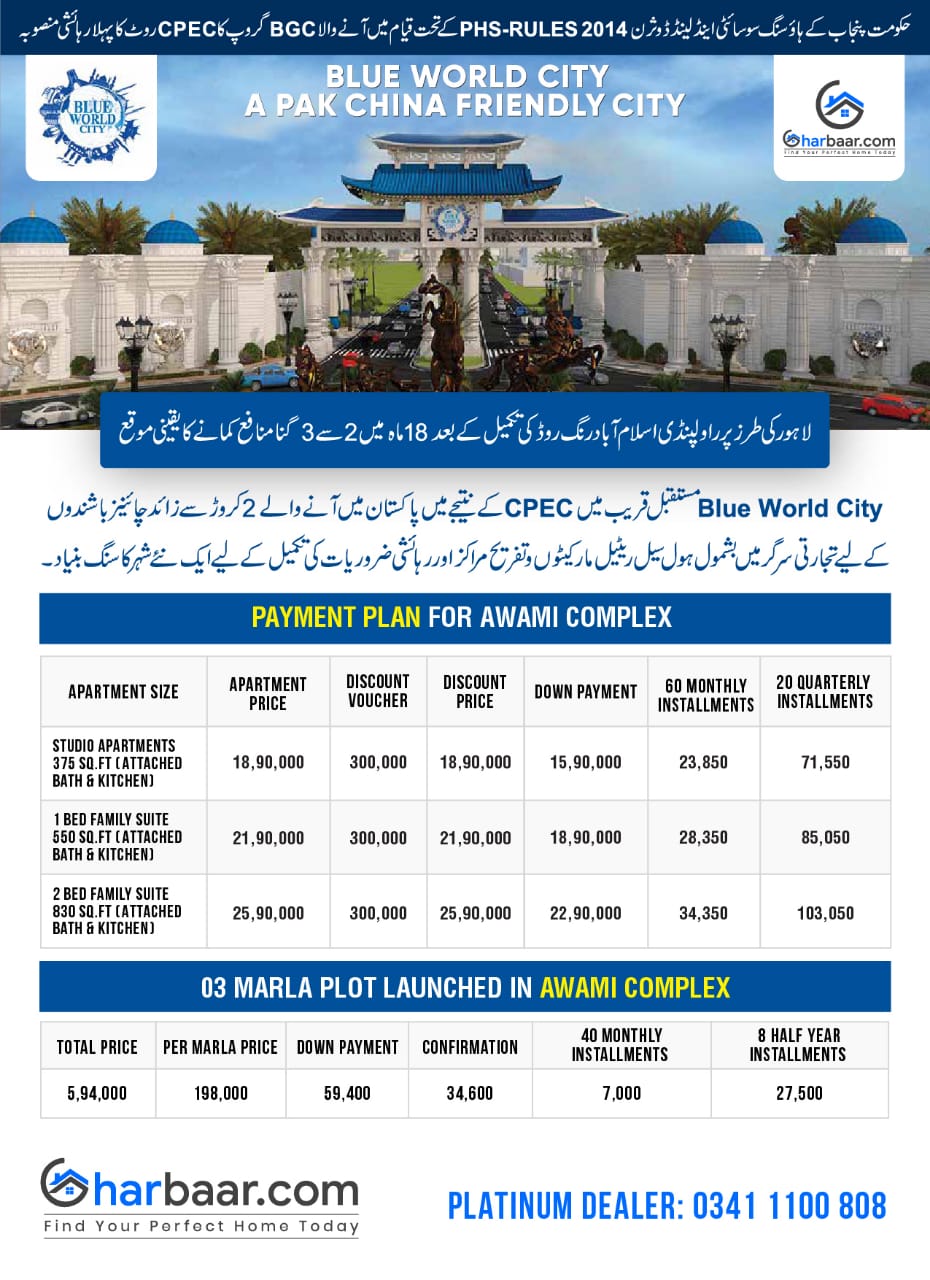 Plots Quota in Blue World City
Government Servants:

50%

General Public:

40%

Retired & Widows:

10%
Blue World City Overview
Blue World City, a colossal housing project initiated by Blue Group of Companies (BGC) is going to be the first Pak-China housing society in Pakistan developed in collaboration with the Chinese.
It is the most budget-friendly housing project developed by the Chinese investment with an easy installment plan considering its magnitude - making it popular among investors. Its proximity to the twin cities (Islamabad and Rawalpindi) is an added bonus.
The project is being developed with the vision of creating it a new commercial hub of Pakistan. Blue World City will be the first private housing society to be considered as Pak-China Friendly City.
This housing scheme project being developed by the Chinese investment will provide a market for Pakistani and Chinese manufacturers with easy access to local and international buyers through the CPEC route; M-2 Motorway – located near New Islamabad International Airport.
Blue World City Location & Map
Blue World City (BWC) is located on the main Chakri Road near Chakri Interchange on Lahore-Islamabad Motorway M2. It is situated in the vicinity of the twin cities and making the Islamabad Airport easily accessible. After the completion of the Ring Road, commercial avenues like Bahria Town, Gulberg Green, DHA, Bahria Town and other projects will be 20-25 minutes away via Ring Road.
The exact location of Blue World City is marked on the map, with the intersection of Chakri Road and Proposed Rawalpindi Ring Road.
Blue World City will be easily accessible via Lahore-Islamabad Motorway M-2 to Chakri Road, when heading from Islamabad. After the completion of the Ring Road, BWC will be from the furthest areas of Rawalpindi e.g. Giga Mall, Bahria Town Islamabad, DHA housing society and Bahria enclave, with reduced commute time.
Blue World City has several popular housing schemes, capital Smart City being one of them. Some of the other societies located in the neighborhood are:
Mumtaz City
Khaniyal Homes
Star Argo farms
Top City
University Town
Blue World City Developer
The Blue World City project is founded by Mr. Saad Nazir (Owner of Blue Group of Companies), Son of Mr. Ch. Nazir (ex-Deputy Commissioner Lahore.)
For the development work of the Blue World City an M.O.U has been signed with Mr. Shan Jian Municipal Engineering Company, China.
Blue Group of Companies (BGC)
Blue Group of Companies was founded in the year 1998 in Lahore. It started by offering architectural design and construction services to its clients. And was soon able to gain the trust of its clients and build a good reputation of being of one of the most reliable organizations.
The company has since then grown and flourished with over 300 professionals. And is of the most diversified organizations operating in Pakistan.
BGC offers a diverse range of services, including:
Real estate
Development, construction and marketing
Architectural design
IT support and commercial printing
Blue Group of Companies then tapped into the retail business. And is now a proud owner of several convenience retail stores and clothing brands.
Company Structure
A wide range of diverse businesses fall under the umbrella of Blue Group of Companies.
Blue Bricks
Blue Properties
Blue Palms
Blue Technologies
WPZ
Blue Media
Mart Blue
Brands Square
Artimmix
Past Projects of BGC
Blue Group of Companies has been successful at accomplishing several housing ventures, such as:
PIA co-operative Society
Center Park Lahore
Blue Sapphire
Blue mart
Blue technologies
This is the latest real estate project that is officially launched by Blue Group of Companies.After the completion of Ring Road, commercial avenues like Bahria Town, Gulberg Green, DHA, Bahria Town and other projects will be 20-25 minutes away via Ring Road.
Following are the documents that will be required to book a plot in Blue World City.
For Local Clients
Passport Size Picture (2)
Copy of your National ID Card (2)
ID card of your next of Kin (2)
For Overseas Clients:
Overseas National ID Card copy (2)
Passport Size Picture (2)
Copy of your National ID Card (2)
ID card of your next of Kin (2)
Blue World City NOC
Blue World City NOC has been issued by Rawalpindi Development Authority (RDA) against the Vide Letter no. RDA/MP&TF/F-PHS-PTR-10/148. Dated: 19-02-2019
Initially, the land allotted to the society was around 427 Kanal. Another application was then submitted to get the Planning and Advertising permission for 5,000 Kanal. This application was under process with the Rawalpindi Development Authority (RDA) and got accepted in August 2018. A permission of additional 5,000 Kanal has been granted for Phase 1.
Similar Societies
Some other such residential projects with lucrative investment options are:
Gharbaar.com Disclaimer
Gharbaar.com makes no warranties, whether expressed or implied, in regard to the websites, contents, accuracy, financial projections and/or assumptions nor availability.
The User assumes all responsibility and risk for the use of the information and other material provided. Gharbaar.com shall not be liable for any loss, injury, damage, cost, penalty or claim resulting from the use of the materials or projections/assumptions, whether direct or indirect. The User indemnifies Gharbaar.com and holds it harmless against any and all liability, loss, damage, penalty, cost or claim of whatsoever nature suffered by any third party in relation to any act or omission by the User in relation to the information and the use thereof by the User.
Blue world city took its first in development of new Pakistan and keeping in mind the economical state and the purchasing power of a common resident of Pakistan launched a block under the title Awami Complex. Awami Complex offers ready to live villas for the people who dream to have a house in Islamabad/Rawalpindi at very affordable price. Awami complex offers apartments and villas with latest architectural design to ensure a better and comfortable living style.
Blue World City Awami Complex Islamabad has a strong management team, which carefully judge needs of clients. On the basis of that judgment, their payment plan is a flexible plan for buyers to book an apartment with a down payment starting from Rs.120,000 and Awami Villa at a down payment of only Rs. 220,000.
Blue World City Awami Complex Payment plan:
Blue world city awami flats are on a long term installment plan of 5 years on monthly and half year installment so everyone can afford
Prices are very low
5 years easy payment plan
Blue World City Awami Complex Islamabad Facilities:
Neat & Clean Environment
24/7 Security
CCTV Cameras Available
Electricity, SUI Gas & Water
Mosque
Hospital
Water Filtration Plant
Zoo
Gated Community
All About Blue World City
Here are some important aspects for a comprehensive overview Blue World City.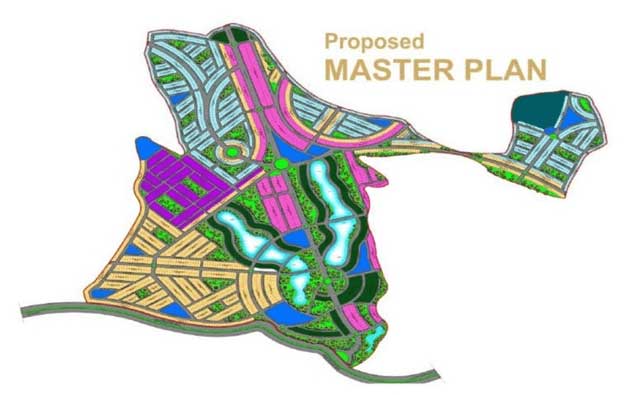 Moza
The Moza of the Blue world city is a village named "Sehal".
Size of Roads
The proposed road plan is one of the most appealing features of the Blue World City. With a wide network of carpeted roads, the Main Boulevard will be 120ft, main roads more than 80ft and rest of the streets will be 40ft wide.
Project Details
Blue World Society has been allotted a total land of 5000 Kanal. The society will comprise four different phases, which are then further divided into blocks and plots.
The society is offering:
5 marla, 8 marla, 10 marla, 1 kanal and 2 kanal Residential plots
4 kanal and 8 kanal Farm houses
5 marla and 8 marla Commercial plots
The society has offered 3 year & 4 year installment plan for the ease and convenience of its investors.
Bookings starts with only 10% down payment which is as low as Rs. 119,000/-
Blue Group of Companies has just finished launching their housing society's overseas block. The block with time is gaining popularity as one of the focal points of this amazing housing society. The block is specifically for Pakistanis residing abroad who prefer luxury living and top quality accommodation.
There are a small number of commercial and residential plots available on a first come first serve basis for the overseas block. This opportunity is a beneficial and cost effective investment opportunity for nationals residing abroad offering more safety & convenience.
Location of Overseas Block In Blue World City
There is direct access from Chakri Road and a designated gate that is directly linked with the society's main gate that's almost nearing completion.
The Rawalpindi Ring Road will provide access routes to the housing project and a direct link to the Motorway M-2 and Islamabad city for the Blue World City Islamabad in 2 years time.
Due to it's brilliant aesthetics, location and convenience, it's turning into an investment hub for local and international investors.
Payment Plan of Overseas Block in Blue World City
Currently, there are only a limited residential plot sizes being offered by the Blue world city for the overseas block.
7, 10, 14 Marla Plots
20 and 40 Marla Plots
These can be booked for a 15% down payment only with 16 quarterly or 48 monthly installments for clearing the pending amount. The Payment Plan for the Blue World City Overseas Block entails the following:
Important Note: An additional 10% of the above highlighted costs will be applicable on Park face, Corner and Boulevard plot categories.
Blue Hills Country Farms in Blue World City
It can be quite stressful to manage the pressures of a busy and challenging everyday life routine. Peaceful accommodation that offers a serene and aesthetically pleasing environment helps keep you at peace so you can enjoy & live comfortably. The Blue Hills Country Farms are a distinctive attribute of the housing society that offers residents luxury accommodation and scenic beauty.
Blue Hills Farm Houses Location
The Blue Hills Farmhouse has an ideal location and is situated in a serene area within the housing society with a beautiful vicinity. With a lovely water steam flowing near the surroundings, the natural beauty of the place is elevated exuding a soothing vibe. It's one of the best living areas for those who crave solitude, comfortable living and peace of mind, especially away from the city.
Why Go For Farm House Booking in Blue World City?
You will have the opportunity to experience peaceful living and enjoy the serene environment. With its high standards, the place offers you a chance to live lavish and easily manage your property. The farmhouses are built to promote privacy and a stress-free life where you get to enjoy nature at its best.
Contrary to other societies in the vicinity, the farmhouses have inexpensive rates and easy installment packages. This is not only convenient for buyers but the safest investment opportunity as well. The jaw-dropping scenic views only add to the breathtaking aura!
Notable Features of Blue World City
The housing society reflects brilliant elements of the Chinese construction and architecture. It has been exclusively crafted to meet the particular housing needs of potential residents while offering them convenience & affordability. The project has been designed to offer accommodation to around 2 million Chinese workers transferring to Pakistan in the next few years for the CPEC route project.
Keeping in view the specific residential requirements of these foreign workers, the housing project has been planned focusing on international infrastructure & facilities. The housing society aims at elevating the living standards of Pakistani nationals while providing top level facilities to the Chinese residents.
The housing society will feature the following unique & distinctive facilities for its occupants:
Water, Electricity & Gas
The Blue World City Islamabad is primarily located at a distant location due to which the connections for water, electricity and gas were rarely issued. The staff worked diligently for the challenging task of getting these connections for the housing society. They went the extra mile to ensure that these necessary facilities were available to the citizens for more comfortable living.
The Blue Mosque at Turkey Replica
One of the dominating features of the housing project is the replica of the Blue Mosque in Istanbul, Turkey. The historic architectural wonder was constructed by Muslim designers and architects around 1609. The engineers & designers at the Blue World City used this amazing landmark to construct a replica of the society's mosque to preserve Islamic traditions & cultural values.
It is set to become one of the dominating visitor attractions for the society after the Faisal Mosque. With its stunning architecture, it blends amazingly well with the overall theme and ambience of the Blue World City Islamabad.
Commercial Hubs, Schools & Colleges
The project is ready to develop into one of the largest commercial hubs especially for this region with direct access to CPEC route. With it's brilliant location and commercial feasibility, it offers endless opportunities for investors.
The architects built the landmark based on the Master Plan that was exclusively designed to turn the place into a thriving residential & commercial community. The key features of the plan included high quality educational facilities , modern commercial avenues and recreational facilities depicting international standards.
Largest Water Theme Park in Pakistan
The place includes the biggest water theme park for its residents to enjoy some leisure time. The place, Pakistan's first International Park, has been designed to include the following features:
Fun Water Rides
Exclusive water pools for specially abled kids
Slides & Wave pools
Volcanic Waterfall
Water Surfing
Gated Community
The design places strong emphasis on security in the residential area to avoid any mishaps. This is why the construction entails a secure boundary wall built around the society to keep it firmly guarded and gated. To add more layers of safety & protection, the designers have added facilities like key cards and face recognition to disallow access to unauthorized people.
Around the Clock Security
To offer more protection to its residents, the place features 24/7 security ensured by a trained security team. They have been specially coached to keep the area secure and monitor safety around the place. To benefit from a peaceful and calm environment, CCTV cameras have also been installed in the housing society for higher protection.
Jamia Mosques For Each Sector
Every sector of society will comprise of specially crafted mosques for its occupants. These have been exclusively constructed to provide a safe place for stress free worship and comfortable praying without the need to travel longer distances.
There are further plans to design Jamia Mosques for the entire society to address the influx of residents & visitors who come over for the Jumma Prayers.
Expansive Network of Carpeted Routes
The staff is already working on constructing the large network of carpeted roads across the infrastructure. These are specifically being designed to link all areas within the society. These roads will have configuration types of 40, 60, 80, 100 and 120 feet width. To offer safety and convenience for commuters and cyclists, the routes will include sidewalks and concrete pathways.
Public Transport Network
The internal network of public transport in the housing society will be expanded that aims at offering easy commute to the residents and visitors.
Electric Power Facility
To provide residents with unlimited electricity supply and keep the zone a load-shedding free area, a new electric plant will be installed. The officials aim at ensuring power efficiency and productivity through the society's very own electric plant.
Underground Electricity
Housing societies have been employing the underground electricity feature to infuse community convenience. This concept is a great way to modernize any housing project and ensure safety. The officials plan on upgrading the society with underground electricity to enhance the comfort, convenience and luxury that the place already offers to its occupants.
Sports and Cultural Arena
There are plans to construct a state of the art cultural and multi-functional sports complex in the society. This will offer more entertainment to its residents and chances to engage in recreational activities. The arena also aims at promoting cultural diversity and leisure facilities in the region.
Sewerage Treatment Plant
The Blue City Project places high emphasis on cleanliness and a green environment. The designers will be constructing high-tech sewerage treatment plants throughout the society for hygiene and purging. The waste disposal system will essentially be eco-friendly to promote a safer and cleaner environment.
Water Filtration Plant
Any prominent housing society will ensure provision of filtered water to its residents. To promote sustainability and self-sufficiency, the housing society will feature a state of the art water filtration plant. This will be based on the latest cutting-edge technology to supply clean drinking water to its occupants while uplifting their quality of living.
Lakes & Oxygen Park
Another key feature of the society is the availability of lakes and an Oxygen park that serve as primary visitor attractions. Their standout aesthetics help enhance the scenic beauty around the place. Designed with a 'green vision', these are environment friendly and stress-free regions that promote general well being.
3D I-max Cinema
Housing societies usually include entertainment sources like Cinemas for their residents so they can enjoy quality leisure time. The Blue World City plans on launching a 3D I-max cinema to connect its residents with the current technology and entertainment sources.
Adventure Club
A great way to build social links is to have a private Adventure club for any housing society. The officials plan on designing the community's very own club that will feature recreational activities and adventures sprees like paragliding, parachuting, horseback riding, hiking and dirt bike riding.
Safari Zoo
Another notable characteristic of the housing society is the safari Zoo that includes a diaspora of animal & bird species for the visitors to enjoy. The Zoo has a marvelous collection of species from all across the globe. It offers a wonderful opportunity for families and children to observe wildlife and benefit from a memorable experience.
Water Pools And Spa Clubs
The society also includes luxury facilities like Spa clubs and freshwater pools. The Spa Clubs include therapeutic routines and de-stress treatments for the residents. These not only add to the luxury aspect of the community but provide a great way to improve cognitive & general wellness.
Police Station
To ensure higher security for its residents, the community will have a completely functional and highly responsive police station. This will be focusing on crime management and security monitoring for the society.
40-Bed Hospital
To provide healthcare facilities to its residents, the housing society includes an expansive 40-bed clinic. This has been constructed in conformity with the Blue World City Masterplan. Comprising of the recent high-tech medical equipment & latest technology, this will provide the best healthcare & emergency response amenities to the occupants.
Recent Improvements in Blue World City
Even though the Blue World City is not officially introduced and launched yet, the development of the project has commenced. The construction of the entrance of the society is in its final stage while the further development of the main avenue and other areas are in process. The land cleaning and clearing work in Blue World City's phase 1 has started and soon, the land levelling and mapping of plots will also start.
The CEO of the project, Blue World City, Mr. Saad Nazeer had a meeting with a top Chinese developer, Mr. Chang, and discussed the development and construction plans of the Blue World City's apartment buildings. Hopefully, the work will start soon.
A Model of Pak-China Friendship
The project's management has signed an official Memorandum of Understanding (MOU) with a top Chinese development and investment company, Shan Jian Municipal Engineering Company. The company has agreed to assist in the development and investment of this magnum opus housing project and promote Pak-China friendship.
Below are some of the chief reasons that Blue World City will be significant in strengthening the Pak-China relationships and emerge as the first Pak-China friendly city.
1. It is a Vision for a Progressive China and Pakistan
Blue World City is being developed with a vision of having a housing society that meets all the international standards of living. It will be developed by combining Chinese and Pakistani skills and technology and will be covering everything from commercial to economic areas. Other areas include education, health and recreation.
The housing society is geared towards being a Pak-China friendly society and management from both the countries is working towards it.
2. It is a Joint Pak-China Investment Venture
The Chinese development and construction company, Shan Jian Municipal Engineering Company, has collaborated with the Blue Group of Companies and agreed to invest in the housing society. This joint venture marks the solidarity of the two countries and makes it a one of its kind Pak-China friendly city and venture.
3. It is Close to the CPEC Route
Blue World City Islamabad is close to the CPEC route, which is developed to improve the trade between the two countries. Most of the workers working on the construction of the Blue World City will be Chinese and to accommodate them, the housing society is planned near the respectie route. It will meet their accommodation requirements and help them to commute easily.
4. It Utilizes Chinese Architecture and Development
Blue World City is being developed by using Chinese development and construction techniques and skills. The master plan and the architectural design of the society will be influenced by the contemporary Chinese architectural design and structure.
5. It will Accommodate Chinese Citizens
Due to the commencement of the CPEC route, it is expected that a large amount of Chinese citizens will move to Pakistan in the coming few years. Also, because the project will be constructed by the Chinese workers, it is likely to receive a significant amount of Chinese people in Pakistan. To accommodate the Chinese citizens, a separate and specially designed block will be reserved for them.
Blue World City is the first housing venture that is built with the aim of harmonizing the relationships between the two countries and to benefit both economically and socially. The project will not only be a milestone in bringing the citizens of both the countries together but will also open doors for endless corporate, economical and cultural opportunities. Furthermore, it will promote and encourage foreign investment in the country.
Why Should You Invest in Blue World City?
Thinking why should you invest in Blue World City? There are many reasons. The housing project is needs comparatively less income and will provide a chance for the people with low income to own a property. With it, they can provide a better and comfortable living standard to their family and avail top class facilities.
Below are some more reasons to book your plot in Blue World City.
1. It is the Most Affordable Housing Investment
Blue World City offers residential and commercial plots in affordable rates. Compared to other housing project and properties, it is quite reasonable and it's easy to follow installment plan encourages salaried and average income people to invest in it and have a luxurious accomodation for their families.
2. It Offers Easy Installment and Payment Plans
Blue World City offers easy and convenient 3 and 4 years payment plans. The amount and number of installments depend on the total price of the property. For the people's feasibility and ease, there are multiple plots and properties options and people can book according to their financial capacity and ease. This makes the society an ideal place to invest and optimize their savings.
3. It has all the Modern Facilities
Something that makes Blue World City an ideal investment and place to live are the amenities and facilities that it offers. Besides the basic facilities like gas, water and electricity, Blue World City will have other facilities like recreational parks, cinemas, shopping centers and other exclusive clubs for the residents. For the people investing in it, it is no less than a chance of securing and peaceful and luxurious life.
4. It has a Peaceful and Green Environment
The housing project has a serene and peaceful environment, since it is surrounded by beautiful and scenic green ambiance, which gives a feel of a more natural and stress free life. Since it is away from the mainstream city, it has less pollution and is an eco-friendly and healthy housing option for families. It is close to nature and this makes it an ideal family location.
5. It offers Numerous Business Opportunities
Besides an ideal residential option, Blue World City is an equally ideal location for tremendous commercial and business opportunities. With high-end shopping malls, clubs and recreational avenues, the respective society has a lot to offer. All this makes it a well rounded residential and business solution.
6. It Offers High Return on Invest
The existing prices of the plots and other properties in the housing society are quite low and it is because the society is in its initial and pre-launch stage. Once it is completely developed, the prices will skyrocket. Therefore, now is the best time to invest. In case you want to move on to another place, you can sell your plot with high yield.
7. It gives a Sense of Security
With high scale facilities and reasonable prices, Blue World City gives a sense of security to its investors. It will improve your quality of life and gives you gives a peace of mind that your investment is secure and will yield high return.
Advantages and Disadvantages of Blue World City
| Advantages | Disadvantages |
| --- | --- |
| Basic facilities, water, gas and electricity, are available. | The development work is taking time. |
| It is a prime location in Islamabad. | Right now it does not offer complete possession of the property. |
| The prices are reasonable and the installment plans are easy. | The completion may take a lot of time. |
| The surrounding and overall environment is secure. | Far from the main Islamabad city. |
| It has modern infrastructure. | - |
| It is a modern business hub of the country. | - |
| Numerous job and business opportunities. | - |
| It aims to be the largest wholesale market for both Pakistani and Chinese manufacturers | - |
| It has Chinese designed and operated water and entertainment parks and clubs. | - |
| It has upscale resorts, hotels and shopping malls. | - |
| It has contemporary health and educational amenities and opportunities. | - |
| It will be home to diverse and multicultural communities. | - |
| The environment is eco-friendly and healthy. | - |
| It offers a high standard of living. | - |
| It has a replica of Blue Mosque, a historical mosque in Istanbul. | - |
When will the possession of the plots be given?
The possession of the Blue World City plots located in the phase 1 will be given after 3 years, expectantly. The possession will be given after the completion of the development work and the timeframe can be prolonged due to any possible delays like late construction, NOC or any other natural reasons.
Conclusion:
The development of the project is slow and it is expected that it will take a significant time to be fully developed and ready for residence. However, once it is constructed in full, it will be a grand and luxurious residence and commercial avenue. It will provide an international standard of living and give a healthy environment to its residents.
Being in its initial stages of development, it is an ideal investment for average and low income citizens who can yield significant gains in a few years from now. It will give maximum return on investment and the investors can use it for residence and business.
Blue World City is the first housing project that is launched with a Chinese company's collaboration. Where it is an example of Pak-China friendship, it is also an example of a high standard of living in reasonable investment.